If interested in becoming a sponsor, please contact WREAF for information.
Partners: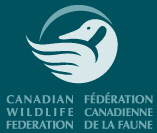 Canadian Wildlife Federation:
When a promise from another organization to fund our October 2008 Labrador expedition with the Innu Nation and Dr. Loring's Smithsonian field team fell through only a month before departure, CWF stepped in and picked up all of the shortfall.
Sponsors:

Mad River Canoe:
Mad River Canoe was WREAF's first supporter and before WREAF's incorporation, supported similar efforts by WREAF members going back 30 years. MRC supplied all the canoes, custom-made canoe covers, paddles, PFD's, gearbag and other canoe gear.   Mad River also provided financial assistance in 2007. Their 2005, 2006 and 2007 national catalogues feature the George River Expeditions.

Canadian Boreal Initiative:
Another of our earliest supporters, CBI helped fund both George River expeditions, develop a website and is looking to support our work in Labrador. CBI is a leader in Boreal Forest conservation, heading the Boreal Leadership Council, a combination of Industry, Conservation, Government and Native stakeholders that work toward a mix of preservation and sustainable development of the Boreal Forest.

Eureka Canada:
Eureka Canadaprovides WREAF with waterproof duffels and tents. Their rugged portage bags have been in continuous use on WREAF expeditions for four years. In 2007 WREAF member Gary McGuffin designed a tent that WREAF used the prototypes on our Lake Superior expedition and on all trips since. It is marketed as the "Tundraline". A roomy easy to pitch tent ideal for canoe tripping.

Tourisme Quebec:
Tourisme Quebec generously supported both George River expeditions and may be supporting our 2009 journey that while a "trans-Labrador" trip, occurs largely in Quebec.

Boreal Songbird Initiative:
Seattle, WA; supporter of the 2006 George River Expedition and contributor to the initial exhibitions.

Tshiuetin Rail Transport:
First aboriginally owned RR in North America provided rail transport for the 2006 George River crew round trip between Sept Iles, QC and Schefferville, QC along a beautiful wilderness rail line.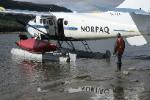 Norpaq Adventures:
Norpaq Adventures provided air transport for both the inbound '05 George River Recon and both put-in and pick-up on the '06 Main Expedition. In '06 they provided transport for Robert Bateman and accomodations at their bush lodge on the George River for his stay and contributed a third flight for our put-in. Incredibly friendly and efficient service.

Chota Outdoor Gear:
Cold feet seem a way of life to some canoeists, but when we paddled the George River to Kaniqsualujjuaq in 2005, cold became numb for much of our crew...except for Gary and Joanie in their Chota mukluks. For 2006 the entire crew was in Chota boots and no one had cold feet for three weeks in the bush; September in the near Arctic and warm feet! What a difference; the world seems a finer place with warm feet.

Cooke Custom Sewing:
When the wind rain snow or bugs are threatening (and in the tundra and boreal forest it is often enough one or more of them), there is nothing quite as comforting as a communal area to gather out of the elements. Our tundra tarp from Cooke Custom Sewing was a secure gathering place for the crew no matter what, a relaxing place to retire to prepare dinner and eat, even when the elements or insects were getting ferocious

LittlBug Enterprises:
Littlbug provided three stoves for our 2008 Labrador crew.
These ingenious stoves use the draft of a chimney design to enable them to burn almost anything; "Campfire in a Can".  They provide a contained fire in areas where there isn't any good wood, be it a overused campsite or out on the tundra. Simple, rugged and reliable.  The firepan and chains allow you to move it at will and collect and dispose of the ashes afterward for "leave no trace" camping.
Makivik Corporation (Air Inuit):
Kuujjuaq, Quebec (Nunavik) Canada; assistance with airfares on Air Inuit for the 2005 George River Recon.
Wildlife Art Magazine:
Ramona, CA.

Smithsonian Arctic Studies Center
Canon Camera
Supported the 2006 George River Expedition and WREAF professional photographer, Gary McGuffin, has for many years exclusively used Canon camera equipment as do many if not most of our artists.
Canadian Tourism Commission:
Supporter of the 2005 George River Recon.
Innu Nation, Goose Bay Labrador
Confluence Water Sports Inc.:
Easley, SC - major financial support 2007.
Wildling Art Museum
Los Olivos, CA - June 17 – September 9, 2007.
The Wildlife Experience:
Parker, CO - Feb 23 - May 18, 2008.
Stephen and Susan Bishop:
California - financial support.
Vermont Law School
financial contributor to the 2006 George River Exp.
Artists for Conservation:
Vancouver, BC Canada - participant in the 2005 George River Recon and publicity for the 2006 George River Expedition.
Stephen Nash Esq.:
Texas/California - Pro bono legal assistance.