The Art of Conservation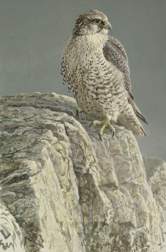 In a society increasingly insulated from nature, art can provide a vicarious connection with the natural world and insights on our perceptions of it. However, since nature artists have many of the same pressures to deal with as everyone else, the insulating effects of modern life can dull the inspiration for that art.
WREAF combats those dulling effects in dramatic fashion. WREAF crews live their art on extended and self-supported river expeditions in some of the most rugged and remote regions of North America. The arduous rigors and sublime joys of wilderness canoe travel provide an intense and intimate immersion in the mother lode of inspiration and a reconnection with wildness.
The resulting artwork, however varied, is connected by a thread of shared adventure and experience. By exhibiting our individual visions together within a natural history context, we work to raise awareness of the region in which these rivers run; the North American Wilderness. Our principal focus is the Boreal Forest. The Boreal Forest is the largest terrestrial ecosystem on Earth, the greatest wilderness in the world, critical for global climate, fresh water, indigenous cultures, wildlife, birds, minerals, pulp, timber, energy and within a day's drive of billions of people, yet virtually unknown to the general public.